This Duchess Deserves the Crown

Jun 26, 2017 02:01PM ● Published by Fran Miller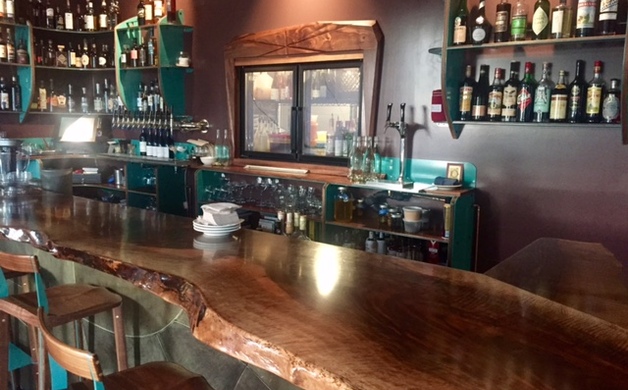 By Fran Endicott Miller
To glimpse the future of the Bay Area's food and bar scene, one need venture no further than Oakland's Duchess. The popular Rockridge 'California pub' is a hotbed for youthful industry talent. From the bar manager, to the owners, to the chef – each younger than the next - this group of dreamers is propelling Duchess' accession amongst the area's notable restaurants and bars. Opened less than a year ago to reviewer fanfare, the tiny spot along Oakland's College Avenue continues to achieve. Recent changes in the kitchen and at the bar(s) have helped to elevate food and beverage options, and additional design elements have allowed for increased capacity to better handle the 'home away from home' nightly crowds so emblematic of a true pub environ.
So what's the cause for all of the hoopla? Several aspects are key, such as the recent deigning of the title 'best cocktails' in the Bay Area by a prominent periodical. Inviting design by VerSacrum Design merges the warmth of a traditional pub with modern details. The staff is friendly and approachable. And the food? Amazingly creative and delicious. Here's how it all comes together:
Ownership: Quality begins at the top, and owners Chris Strieter and Caroline Connor possess the vitality, smarts, and youthful optimism to propel Duchess to royal status. Strieter, a partner in Senses Wine, and Conner, a former assistant pastry chef at Nopa, first bonded over a shared appreciation of fine wines, and mused how they might someday open a wine shop. "How hard could it be?" they joked. Before they knew it, their musing had expanded to a full blown restaurant. Their idea was to create a California Pub with modern and fresh cuisine, but comfort driven and anything but pretentious. They chose Oakland's Rockridge neighborhood for its energy, great foot traffic, and supportive business owners. 
Bar Program: With two full bars in its tiny space – one upstairs and one down – Duchess is poised as the place where everyone knows your name. A steady flow of neighborhood regulars mingle with visitors from around the Bay while enjoying the creative libations of new bar manager Luis Ramos. (The recently christened upstairs "Loft," open Thursday – Saturday from 6 p.m. to 12 p.m., is an inviting space overlooking College Avenue.) Ramos started bartending in San Francisco at the tender age of 21, at hot spots Absinthe, Foreign Cinema and Lolo. At just 23, his passion for all things cocktail landed him a dream job as bar manager at the highly reputable Bourbon and Branch. After just a few months on the job at Duchess, Ramos' wholly original concoctions helped to score the restaurant's 'best cocktails' designation from San Francisco Magazine. His creative use of house-made tinctures, seasonal solutions, and sodas produce cocktails not found anywhere else, such as the Pina Movida with Plantation 3 Star rum, coconut water, pineapple syrup, citric acid and sea salt, the Garden Warfare with mezcal, gin, strawberry/tomato syrup, lemon juice, chili piquin/pink peppercorn salt, and the Where are We? with Bourbon Spirit Works sloe gin, sweet vermouth, Senses chardonnay and walnut tincture. His Loft bar menu also offers a variety of summer punches and cocktail alternatives in the form of jello and popsicles.

The Food: A new executive chef, Andrew Greene, is gradually making the Duchess menu his own with dishes that combine his passion for Asian cuisine and culture with traditional recipes, resulting in exciting and original flavors. Standouts include an amazing Panzanella with pan de mie, strawberry, Belfiore burrata, and smoked peach dressing, and Hamachi with coconut cream, frozen grape, radish and ikura. Main courses include Ocean Trout with dashi risotto, beach mushroom, tempura squash blossom and nori cream, or the Short Rib with oyster mushroom, spring onion, fiddlehead fern, celery root, and ponzu reduction. This is comfort food to the extreme, and Greene's prior education in visual artistry is evident on every plate. As the former executive chef at Social Kitchen and Brewery, Troya, and a favorite at pop-up dinners for Naked Kitchen, Greene's process is utterly novel and fresh, and his menu items are not replicated anywhere else in the Bay Area.
The seasonal food and artisanal cocktail pairings can now be enjoyed on a newly renovated patio space, the perfect spot to enjoy the summer sun while immersed in the charming downtown ambience of Rockridge.
Lunch: 11-3pm (Wed - Fri)
Weekend Brunch: 10-3pm
Dinner: 5-10pm (9 on Sun, Tue & Wed)
The Loft: 6-12am (Thur - Sat)
Duchess (5422 College Ave., Oakland) has recently partnered with OpenTable to provide online reservations. Click here to book. 
Eat+Drink